Hidde Koenraad
advocaat | partner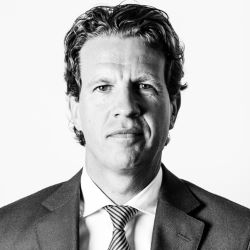 Specialisme
Intellectuele Eigendom

Kwekersrecht

Merkenrecht

Modellenrecht

Auteursrecht

Domeinnaamgeschillen
Opleiding
Nederlands Recht, Universiteit Utrecht
Hidde Koenraad (1975) heeft zich in 2017 als partner bij Boekx aangesloten. Hidde is gespecialiseerd in het intellectuele eigendomsrecht, in het bijzonder op het gebied van merkenrecht, modellenrecht, auteursrecht, kwekersrecht en domeinnaamgeschillen. Hidde treedt op voor zowel grote internationale als kleinere lokale ondernemingen in diverse sectoren, waaronder FMCG, automotive, fashion, life sciences, fintech en plantveredeling (sierteelt, fruit en groenten).
Hidde wordt internationaal erkend als een gerenommeerde IE-advocaat, onder meer door Chambers and Partners, Legal 500, World Trademark Review 1000 en Managing Intellectual Property (IP Stars). Hidde werd op 1 oktober 2020 benoemd tot Member of the Board of Appeal van het Communautair Bureau voor Plantenrassen (CPVO) in Angers, Frankrijk.
Voordat Hidde zich als partner verbond aan Boekx was hij werkzaam bij onder meer de internationale kantoren DLA Piper en Simmons & Simmons. Bij laatstgenoemd kantoor gaf hij als partner leiding aan de Soft-IP proces- en registratiepraktijk.
Hidde is lid van diverse vakverenigingen waaronder INTA, VIE, BMM, VvA en VIEPA. Hij schrift regelmatig noten en artikelen in diverse vakbladen, waaronder in Berichten Intellectuele Eigendom (BIE) en in het sierteelt-vakblad FloraCulture International Magazine. Hidde is lid van de kernredactie van de website IE-Forum.nl.

Hidde Koenraad staat in het rechtsgebiedenregister van de Nederlandse Orde van Advocaten geregistreerd voor het rechtsgebied "Intellectueel eigendomsrecht". Op grond van deze registratie is hij verplicht elk kalenderjaar volgens de normen van de Nederlandse orde van advocaten tien opleidingspunten te behalen op dit vakgebied.
contactgegevens
Leidsegracht 9 1017 NA Amsterdam
Publicaties