Hidde Koenraad
advocaat | partner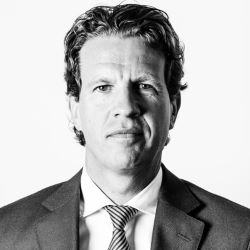 Specialism
Intellectual Property
Plant breeders' rights
Trademark law
Design law
Copyright
Domain name disputes
Hidde Koenraad (1975) joined Boekx as a partner in 2017. He specializes in intellectual property law, particularly in the areas of trademark law, design law, copyright, plant variety rights and domain name disputes. Hidde acts for both large international and smaller local companies in various sectors, including FMCG, automotive, fashion, life sciences and plant breeding (ornamentals, fruits and vegetables).
Hidde is internationally recognized as a renowned IP lawyer, including by the Chambers Global and Europe Guides (2020 and before) in which his clients rate him as "a good business partner who is excellent – determined and concise". Hidde also enjoys recognition in the international Lawyers Guide Legal 500 EMEA (2020 and before). In that guide, Hidde is recommended as follows:
"Hidde Koenraad is very well regarded in the soft IP field, and also in plant variety law. He's very responsive and fun to work with." (Legal 500, 2020)
Furthermore, Hidde is ranked in World Trademark Review 1000 (2020, Silver Tier): "The solution-driven Hidde is responsive, straightforward and transparent about his clients' positions and the viability of various options". Hidde also enjoys recognition as an IP Star (Trademark Star, Managing Intellectual Property, 2020).
In addition to Soft-IP, Hidde is one of the few lawyers in Europe who specializes in (Community) plant variety rights. Hidde is mentioned in the Chambers Global and Europe Guides (2020 and 2019) for his expertise in this field: "Hidde Koenraad […] is recognised as a key player in plant variety law". Also in World Trademark Review 1000 (2020), Hidde's specialism in this field is recognized: "Koenraad carves a niche for himself in plant breeders' rights and manages the global trademark portfolio for Dümmen Orange Group, a market leader in vegetative breeding".
Furthermore, on 1 October 2020, Hidde was appointed Member of the Board of Appeal of the Community Plant Variety Office (CPVO) in Angers, France.
Hidde studied at Utrecht University and has been practising and litigating in the field of intellectual property law on a daily basis since the beginning of his career in 2001. Before joining Boekx as a partner, Hidde worked for the international firms DLA Piper and Simmons & Simmons, among others. At the latter firm, he headed the Soft-IP litigation and registration practice as a partner.
Hidde is a member of the International Trademark Association (INTA), AIPPI (co-author of many AIPPI papers), the Benelux Trademark and Designs Association (BMM), the Dutch Copyright Association, the Agricultural Law Association and the Association of Intellectual Property Litigation Lawyers (VIEPA).
He is co-author of the chapter Benelux design law included in the database Intellectual Property Comments (IE-C.nl). He also regularly writes case comments and articles in various professional journals, including in Berichten industriële Eigendom (BIE). He is also a regular columnist in the floriculture trade journal FloraCulture International Magazine and sits on the editorial board of the Dutch intellectual property website IE-Forum.nl.
contact details
Leidsegracht 9
1017 NA Amsterdam
Publications